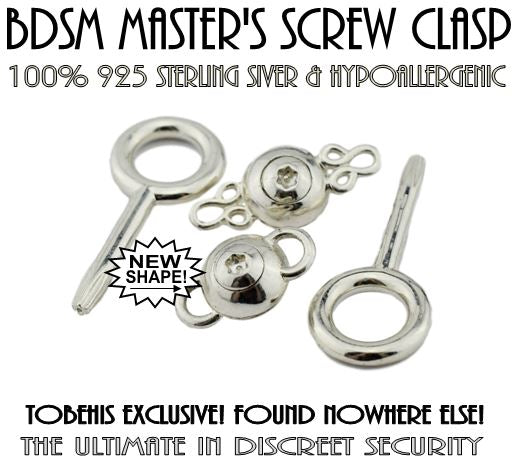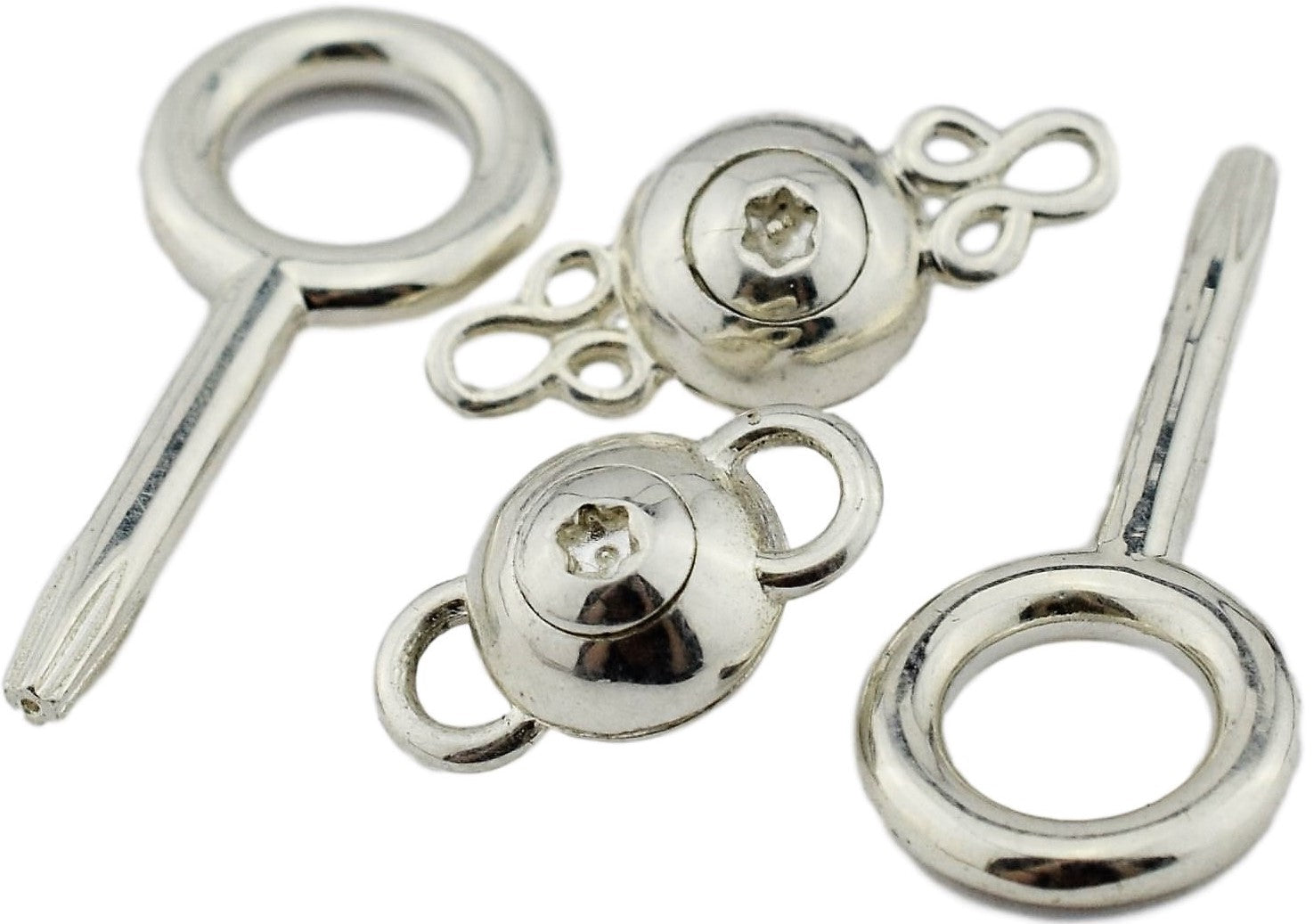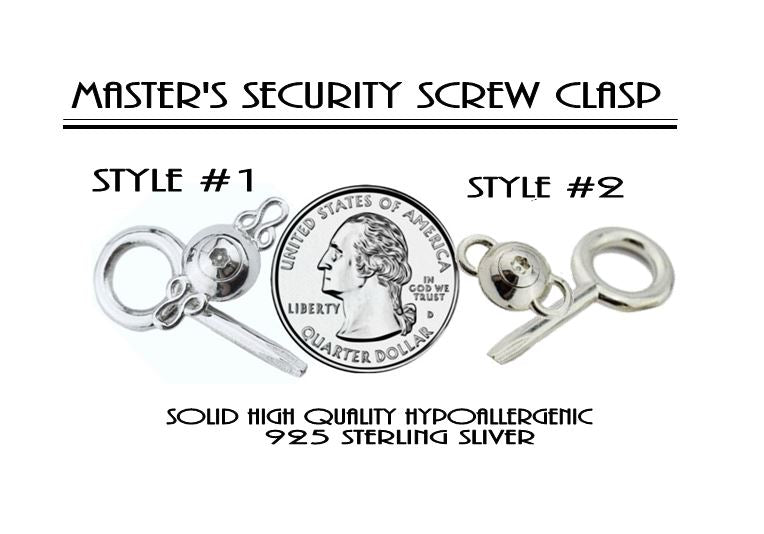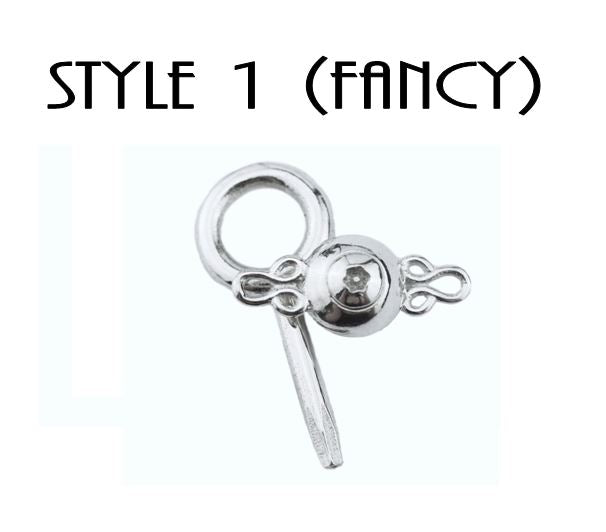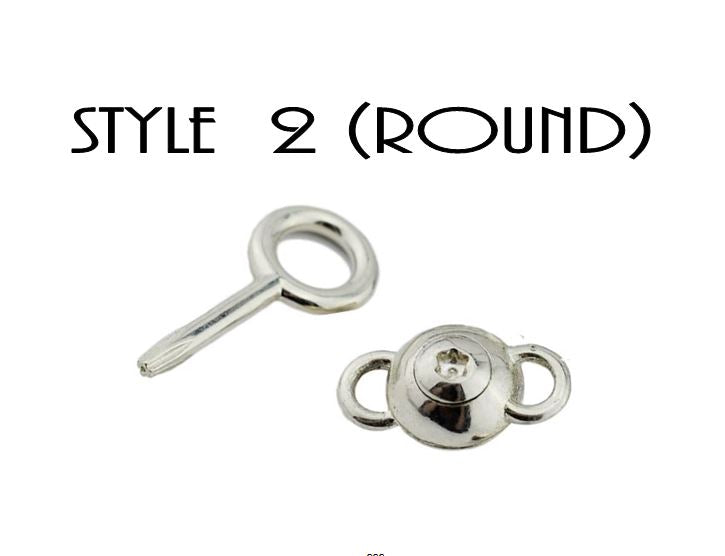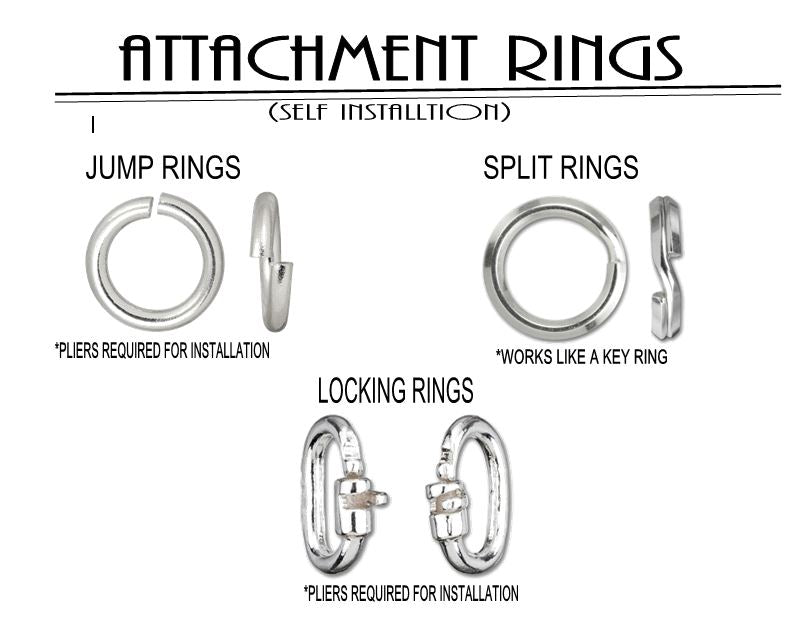 Solid 925 Sterling Silver BDSM Screw Clasp
AVAILABLE IN 14K GOLD & PLATINUM TOO!
CLICK HERE TO SEE OUR OTHER LOCKS AND CLASPS
NOTE:  THIS LISTING IS FOR THE SCREW CLASP BY ITSELF.  YOU WILL RECEIVE THE CLASP & KEY AND NEED TO INSTALL IT ON YOUR COLLAR.  ALL OF OUR STERLING AND GOLD COLLARS HAVE THE SCREW CLASP AS AN OPTION.  IF YOU PURCHASE THE SCREW CLASP WITH OUR COLLAR IT WILL BE PROFESSIONALLY INSTALLED AT NO ADDITIONAL CHARGE.  INSTRUCTIONS WILL BE PROVIDED IF YOU PURCHASE IT INDIVIDUALLY.
ATTACHING RINGS:
SPLIT RINGS - LIKE A KEY RING, NO TOOLS NEEDED FOR INSTALLATION
JUMP RINGS - OPEN RINGS - NEED NEEDLE NOSE PLIERS TO CLOSE
LOCKING RINGS - NEED NEEDLE NOSE PLIERS TO CLOSE
This is a expertly handcrafted piece that has been specifically 3D Cad designed for the BDSM lifestyle. This is not mass produced in China nor is it some regular clasp that has be modified to work with a common hex screw. It is both beautiful and practical and each component (clasp, key, screw) is made of SOLID 925 High Grade, Hypoallergenic Sterling silver. This piece takes several hours of work from start to finish and is really quite a masterpiece. While you might think the price is high, consider our normal silversmith bench hourly rate is $70.00 an hour as well as the fact that it doesn't exist any where else in the world!

FOUND NO WHERE ELSE! TOBEHIS EXCLUSIVE!!!

NOW IN 2 STYLES!!

PERFECT FOR THOSE WHO LIVE IN THE VANILLA! 100% DISCREET

ENGINEERED FOR THE BDSM LIFESTYLE! NOTHING ELSE CAN COMPARE!
3D CAD designed, Expertly and PRECISION made & THREADED!

SMALLEST LOCKING MECHANISM IN THE WORLD!
Not Bulky, will not get in the way, will not weigh down your collar!

100% SOLID STERLING SILVER INCLUDING THE SCREW & KEY
Beautifully designed, the BDSM "O" Ring Master's Star Key can be worn as a pendant. Simple, yet Elegant and a Symbolism of our lifestyle. Every piece is Jewelry Quality Hypoallergenic 925 Sterling Silver polished to a mirror shine! Even the screw is Solid 925 Sterling Silver. NOW THAT'S CLASS!

100% HYPOALLERGENIC
We use only the Highest Quality, Nickel-free, Hypoallergenic 925 Sterling Silver available!

ADVANCED SECURITY STAR SCREW TECHNOLOGY - NOT A COMMON HEX!
Who doesn't have a Hex Allen Key? What good is a "locking clasp" if you can open it with a screwdriver or a knife? Our Advanced Security Star Screw can ONLY be opened with the Master's Security Star Key. Now that's Security!


NOTE: CAN BE ADDED & PROFESSIONALLY INSTALLED TO ANY OF OUR STERLING SILVER OR 14K GOLD  COLLARS!

All screw clasps sold together with one of our collars will be professionally installed.


YOU ASKED FOR IT AND WE LISTENED....

WE ARE PROUD TO INTRODUCE OUR NEW SOLID STERLING SILVER SECURITY SCREW CLASP!

The new genre of BDSMers are starting to emerge and they want a more "discreet" and more" symbolic" collar that is still beautiful but also FUNCTIONAL. This new branch of BDSMers bounce between the "lifestyle" and the "vanilla" world and need something that is still symbolic of the BDSM "ownership" but at the same time discreet and not obvious to the "vanilla world." For this reason we have Engineered and 3D CAD designed the only totally solid sterling silver streamline security screw clasp and Master's "O" ring Allen Key in the world! IT'S REALLY PRETTY AND FEMININE TOO! The best of both words, precision functionality and visually pleasing!

FEATURES:
This clasp has been specifically designed for the BDSM "lifestylers." Made totally in Solid High Grade 925 Sterling Silver you can be sure it is 100% hypoallergenic and 24/7 wearable.

The clasp features a special INTERNAL Interlocking "Tab" system and a unique "Star & Peg" Screw not found anywhere else but here at ToBeHis! This special screw head design is not the standard "hex" design you find with a common "Allen Key" and therefore cannot be opened with a standard "Allen" wrench or key. Standard hex screws can even be opened with a small screwdriver or even pliers but not ours! The screw head recesses into the claps so there are absolutely NO edges to grasp. Once it's screwed on there is absolutely NO way to open it without the Master's "O" Key.

NO OTHER HEX OR ALLEN WRENCH WILL WORK

The Key has been made with the "Master/Mistress" in mind. It is made of Solid High Grade 925 Sterling Silver and topped off with the BDSM symbolic "O" so it can be worn with pride on a chain around the neck. The Master/Mistress deserves the best! Tipped with a unique and only found at ToBeHis "star" pattern that matches the screw perfectly. And to make it even more "secure" the screw has a "peg" in the middle so no screw driver or other wrench can fit inside.


Totally 24/7 wearable and 100% hypoallergenic. Sterling silver will never rust or be damaged by water (fresh, salt or chlorine). Our silver is made of the finest quality 925 Sterling silver and has absolutely NO nickel in it so it will never give you an allergic reaction like some other sterling silver can.


ULTRA DISCREET! Without the attachment tabs (loops on ends) the diameter is only a small 9mm or 3/8ths of an inch. It's the ULTIMATE in LOW PROFILE and HIGH SECURITY.

NO ONE BUT YOU AND YOUR SUB WILL EVER KNOW THE COLLAR IS FOREVER LOCKED ON

THIS IS THE SMALLEST AND MOST DISCREET BDSM SCREW CLASP IN THE ENTIRE WORLD. VIRTUALLY UNDETECTABLE!

THIS LISTING COMES WITH:

1 SOLID STERLING SILVER SCREW CLASP
1 SOLID STERLING SILVER MASTER "O" KEY
NOTE: ATTACHING RINGS SOLID IN DROP DOWN MENUS

Extra Sterling keys( $29.95 EACH) and
Extra Sterling Screws ($14.95 EACH) upon request!

NOTE: CAN BE ADDED TO ANY OF OUR STERLING COLLARS 

MADE WITH THE ONLY SOLID STERLING SILVER SECURITY STAR SCREW IN THE WORLD! CANNOT BE OPENED WITHOUT THE SPECIAL SOLID STERLING SILVER MASTER "O" RING ALLEN KEY.

ABSOLUTELY 100% STERLING SILVER! STERLING CLASP, STERLING SCREW, STERLING KEY!


*******CANNOT BE OPENED OR CLOSED WITHOUT KEY.********


Size:
Please refer to the pictures for a size comparison to a quarter.
Clasp is very small and when installed on a collar measures only approx 9mm or 3/8" in diameter.